WE help brands and businesses meet their responsibility goals for eco-friendly practices by raising awareness and ensuring compliance. We handle the sorting, dismantling, and recycling of electronic waste according to the guidelines set by CPCB (Central Pollution Control Board) at our state-of-the-art facility near Mumbai.
Who is in the EPR loop?
Brand owner
Producer
Manufacturer
Importer
In November 2022, the Central Pollution Control Board of India (CPCB) issued an official gazette that will come into effect from April 2023. This gazette outlines the implementation of mandatory Extended Producer Responsibility (EPR) requirements for 85 new products falling under the category of E-waste. Notable among the newly included product categories are:
Photovoltaic Panels
Large and Small
Electrical and Electronic Equipment
Electrical and Electronic Tools (excluding large-scale stationary industrial tools)
Medical Devices (excluding all implanted and infected products)
Laboratory Instruments
In addition to the product additions, the gazette also introduces revised recycling targets for producers, as outlined in Schedule-III.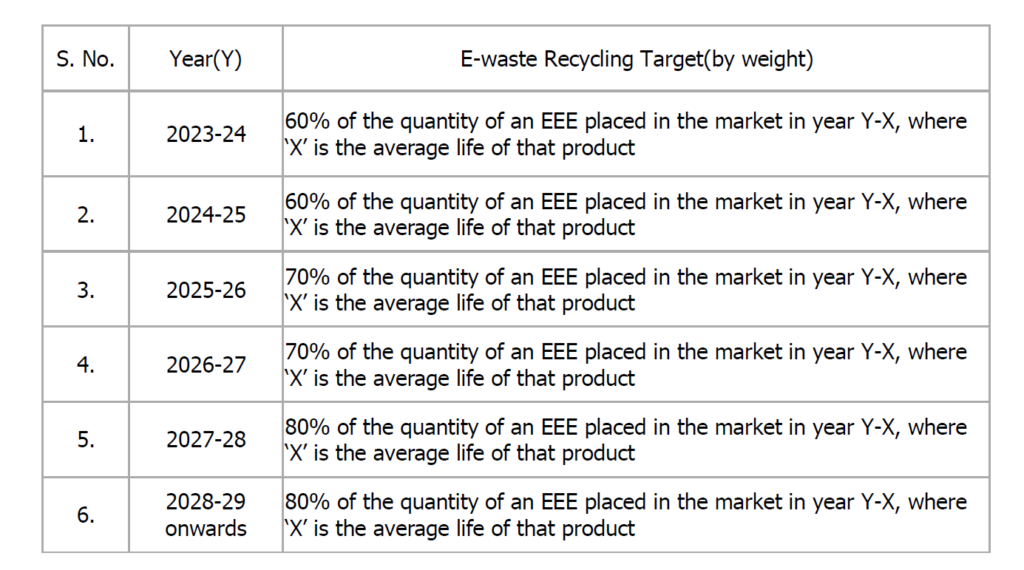 These regulations are to be followed by all entities engaged in various aspects of e-waste management, such as manufacturing, production, refurbishing, dismantling, recycling, and processing of electrical and electronic equipment as outlined in Schedule-I of the official gazette. This encompasses both the main entities and their associated components. Consequently, a wide range of businesses, regardless of their size, are either directly or indirectly collaborating with e-waste recyclers to offer solutions. As a result of this dynamic, a substantial disparity has emerged between the demand and the availability of services. This current scenario presents a significant opportunity for new entrants to tap into the market.